Here is a comprehensive Mental Health Care Package for UCLA Bruins to help support Mental Health and Well-being during this time. This toolkit offers self-care affirmations, education about racial trauma and how it manifests, a Self-Care Plan checklist, campus resources and more!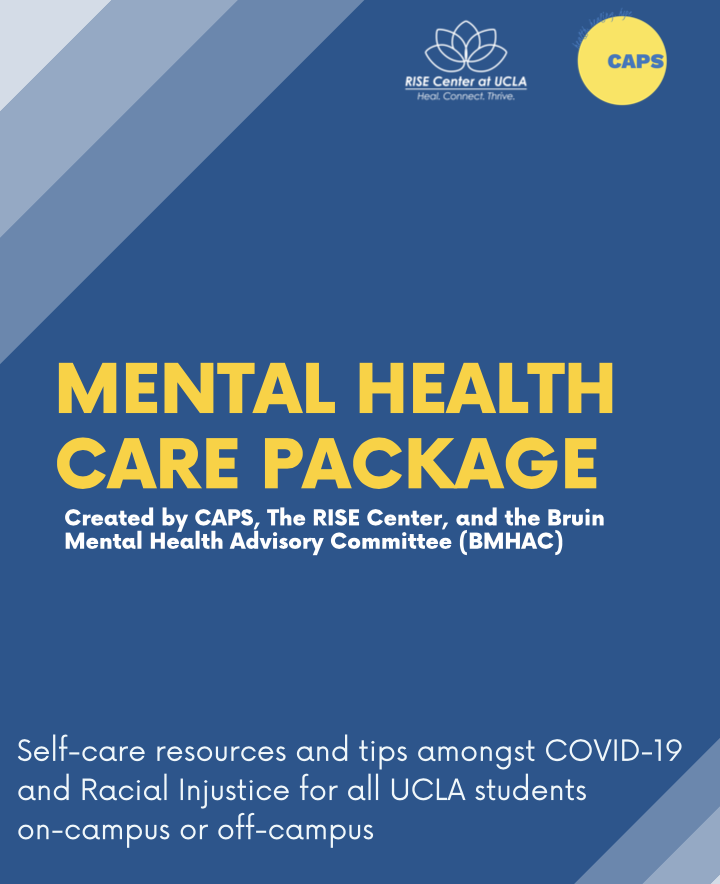 Self-Care
Are you looking for self-care tips and ways to foster resilience? Sign up for Therapy Assisted Online (TAO) Modules! The TAO self-help platform was built to support student educational and skill development needs in the areas of mental wellness and overall well-being. You can use TAO at your convenience and pace. It is a free resource for all UCLA students, staff, and faculty.
Check out this Campus Resource guide detailing campus resources and strategies for resilience to support you during this time.
From Active Minds Student Mental Health Advocacy Organization:
LiveHealth Online
With Live Health Online you have the ability to see a licensed therapist or psychologist through your phone, tablet or computer with internet access. Utilize Live Health Online 24 hours a day on weekdays, weekends, and campus holidays. The cost for students with UC SHIP is $5; no referral for UCSHIP. Coupons to waive the fee for services rendered are available at the CAPS Front Desk for all UCLA Students (does not cover late or missed appointment fees).
How to use LiveHealth Online
Either go to LiveHealthOnline or download the mobile app through Google Play or the App Store
Register
Register using your UC SHIP Anthem ID number
For the question: "Do you have health insurance?" Select "Yes"
From the Health Plan drop-down, select "Anthem Blue Cross (CA)
Enter your Subscriber ID: Your Subscriber ID is found on your UC SHIP insurance card - you can access using this Student Health Mobile app. Your subscriber ID will begin with the characters SDP.
For the question: "Are you the primary subscriber?" Select "Yes"
Click "Finish"
Choose a clinician
Begin Consultation